Security Agreement / General (India)
This Security Agreement is designed for use in India. This legal form is available for immediate download.
For Immediate Download
Rs.499 INR
Add to Cart
60-Day Money Back Guarantee
Please select a state
File types included
Microsoft Word
Adobe PDF
WordPerfect
Rich Text Format
Compatible with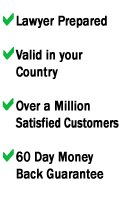 For Immediate Download
Rs.499 INR
Add to Cart
60-Day Money Back Guarantee
Please select a state
Lawyer prepared
Our forms are kept up-to-date and accurate by our lawyers
Unlike other sites, every document on FindLegalForms.com is prepared by a lawyer, so you can be sure that you are getting a form that is accurate and valid in India.
Verified in India
Our forms are guaranteed
to be valid in India
Our team works tirelessly to keep our products current. As the laws change in India, so do our forms.
Over 3,500,000
satisfied customers
In over 10 years of creating and selling legal forms, our focus has never changed: providing our customers high quality legal products, low prices and an experience that takes some confusion out of the law.
60-Days Money Back
Try our forms with no risk
If you are unhappy with your form purchase for any reason at all, contact us within 60 days and we will refund 100% of your money back.
Most loans between a borrower and a lender are typically formalised with a promissory note. In many instances the lender will desire additional assurance that the loan will be repaid and ask that the borrower enter into a Security Agreement. This agreement is beneficial as it sets out the lenderís rights regarding collateral. A written Security Agreement will be invaluable in the event the borrower defaults on the loan.
Among others, this Security Agreement includes the following provisions:
Parties to the Agreement: This provision contains the identity and names of the parties entering into the agreement;
Collateral: Sets out the specific collateral which secures the debt;
Term and Termination: Sets out the term of the agreement and notice of termination details;
Events of Default: Specific provisions regarding default of the loan;
Remedies: Sets forth the remedies which can be taken in the event of default.
Protect Yourself and Your Rights by using our professionally prepared up-to-date forms.
This lawyer-prepared packet contains:
General Information
Instructions and Checklist
Security Agreement for use in India
Law Compliance:
This form complies with the laws of the states and territories of India
Dimensions
Designed for Letter Size (8.5" x 11")
Editable
Yes (.doc, .wpd and .rtf)
Usage
Unlimited number of prints
This is the content of the form and is provided for your convenience. It is not necessarily what the actual form looks like and does not include the information, instructions and other materials that come with the form you would purchase. An actual sample can also be viewed by clicking on the "Sample Form" near the top left of this page.
Security Agreement
(India)
This Packet Includes:
1. General Information
2. Instructions and Checklist
3. Security Agreement
General Information
Security Agreement
When a person or entity ("Lender") loans money to another person or entity ("Borrower"), the loan is typically formalised with a promissory note. In this type of instrument, the Borrower promises to repay the principal of the loan over a period time or on some future date. Often the Lender will want some additional assurance, usually in the form of collateral, in case the Borrower fails to repay the loan. To ensure that that collateral is collectible in the case of a default, the parties will usually enter into a security agreement.
This Security Agreement sets out the rights of the Lender with regard to the collateral. A security agreement will benefit the Lender in a number of ways. First, it specifies what property is included in the collateral. Second, it may help the Lender prove that he has a priority in the collateral (i.e. no other creditors or lenders have a right to it or that the Lender's right is superior to other creditors). Third, in case of default, the Lender should not have to go to court to collect as a Security Agreement gives a lender the immediate rights to property. And finally, if the borrower declares bankruptcy, with a security interest, as memorialised in the security agreement, the lender should not have to stand in line with the other creditors, but can take immediate possession of the collateral.
Laws change from time to time, therefore, the Lender and Borrower should become familiar with the laws at present before entering into a Security Agreement.
Instructions and Checklist
Security Agreement
Read the Security Agreement carefully.
Insert all requested information in the spaces provided on the form.
This form contains the basic terms and language that should be included in similar agreements.
This form includes an exhibit which should be attached and incorporated as part of this agreement.
This agreement includes an arbitration provision. If you would prefer to settle your disputes through the court system, simply remove this provision and re-number if applicable.
Both the secured party and the debtor must sign the Security Agreement. Two copies of the Agreement should be signed so that each party has an original.
Laws regarding security agreements vary from time to time. These forms are not intended to be and are not a substitute for legal advice. These forms should only be a starting point for you and should not be used or signed before first consulting with a lawyer to ensure that they address your particular situation.
All legal documents should be kept in a safe location such as a fireproof safe or safe deposit box.
DISCLAIMER:
FindLegalForms, Inc. ("FLF") is not a law firm and does not provide legal advice. The use of these materials is not a substitute for legal advice. Only a lawyer can provide legal advice. A lawyer should be consulted for all serious legal matters. No Lawyer-Client relationship is created by use of these materials.
THESE MATERIALS ARE PROVIDED "AS-IS." FLF DOES NOT GIVE ANY EXPRESS OR IMPLIED WARRANTIES OF MERCHANTABILITY, SUITABILITY OR COMPLETENESS FOR ANY OF THE MATERIALS FOR YOUR PARTICULAR NEEDS. THE MATERIALS ARE USED AT YOUR OWN RISK. IN NO EVENT WILL: I) FLF, ITS AGENTS, PARTNERS, OR AFFILIATES; OR II) THE PROVIDERS, AUTHORS OR PUBLISHERS OF ITS MATERIALS, BE RESPONSIBLE OR LIABLE FOR ANY DIRECT, INDIRECT, INCIDENTAL, SPECIAL, EXEMPLARY, OR CONSEQUENTIAL DAMAGES (INCLUDING, BUT NOT LIMITED TO, PROCUREMENT OF SUBSTITUTE GOODS OR SERVICES; LOSS OF USE, DATE OR PROFITS; OR BUSINESS INTERRUPTION) HOWEVER USED AND ON ANY THEORY OF LIABILITY, WHETHER IN CONTRACT, STRICT LIABILITY, OR TORT (INCLUDING NEGLIGENCE OR OTHERWISE) ARISING IN ANY WAY OUT OF THE USE OF THESE MATERIALS.
SECURITY AGREEMENT
This Security Agreement (the "Agreement") is made and entered into this __________ day of _______________, 20____ by and between ______________________________________, a _____________ Corporation with its principal place of business at ____________________ (the "Debtor"), and ______________________________________________, a corporation with its principal place of business at ___________________________________________ (the "Secured Party")
RECITALS:
WHEREAS, Debtor has obtained a loan in the amount of Rs. _______________________ from the Secured Party under certain Promissory Note dated _________________________ (the "Promissory Note").
WHEREAS, in order to secure the repayment, performance and all other obligations of the Debtor under the Promissory Note, Debtor hereby has agreed to grant to Secured Party a security interest in the Collateral (described below) in accordance with the terms and conditions of this Agreement.
NOW, THEREFORE, in consideration of the foregoing and the mutual covenants and conditions contained herein, and with the intention of being legally bound hereby, the parties hereto agree as follows
1. COLLATERAL
Debtor hereby grants a security interest in, and mortgages to Secured Party, the Collateral as described on the attached Exhibit A (the "Collateral") to secure the payment obligations of Debtor under the said Promissory Note. The security interest granted hereunder is intended to be a general and continuing security for the payment and performance of all obligations, indebtedness and liabilities of the Debtor to the Secured Party, whether direct or indirect, under the Promissory Note.
2. WARRANTIES AND REPRESENTATIONS
Debtor warrants and covenants that:
(a) Debtor has full power and authority to enter into and perform this Agreement and the Debtor has taken all actions necessary to authorise the execution, delivery and performance of this Agreement.
(b) Debtor is the true and legal owner of the Collateral and the Collateral is free from any and all adverse lien, security interest or encumbrances. Debtor agrees to defend the title to the Collateral against any and all claims, demands of all third parties, firms or entities at any time claiming any interest in the collateral or any part thereof.
(c) Debtor shall keep the Collateral at the following premises _________________________ and shall not move, relocate, transfer or permit for the removal, movement, relocation or transfer of the Collateral from the said premises without prior written approval of the Secured Party. Such consent shall be obtained by providing the Secured Party with Thirty (30) days prior written notice specifying the exact address to which the Collateral is being moved.
(d) Debtor will not sell, assign, pledge, lease, transfer, encumber or otherwise dispose of the Collateral or any interest therein, without the prior written consent of Secured Party. Debtor shall at all times keep the Collateral free and clear of any and all liens, claims or encumbrances and shall not waste or destroy the Collateral or any part thereof. The Secured Party may examine and inspect the Collateral at any reasonable time.
(e) Debtor shall promptly pay all obligations, indebtedness and liabilities owing by the Debtor to the Secured Party as and when they become due or as demanded.
(f) Debtor shall insure the Collateral against risks of loss or damage by fire, wind, storm, theft and such other casualties as Secured Party may reasonably require, in such amounts, in such forms of policies, upon such terms, for such periods and written by such companies as Secured Party may approve. Upon demand, the Debtor shall furnish Secured Party with certificates of such insurance to Secured Party
(g) Debtor will pay promptly when due all taxes, assessments and levies or charges from any source which may be assessed against the Collateral or for its use or operation. In the event if Debtor fails to pay any of the said taxes, assessments, levies or charges the Secured Party may at its option, pay such taxes, assessments, levies or charges and add said sums to the balance of the debt hereby secured or claim from the Debtor immediate reimbursement of such sums.
3. TERM AND TERMINATION
This Agreement shall continue in full force and effect for as long as any of the payment and other obligations whether now existing or hereafter created shall remain outstanding on part of the Debtor. The Secured Party may terminate this Agreement by giving a notice to the Debtor.
4. REASSIGNMENT OF COLLATERAL
Upon termination of this Agreement, or upon receipt by Secured Party of full payment of the principal amount due under Promissory Note, the Secured Party shall reassign the Collateral held by Secured Party to Debtor. After such a reassignment the Secured Party shall execute a termination agreement terminating the security interests given by Debtor to Secured Party.
5. EVENTS OF DEFAULT
Debtor shall be said to be in default under this Agreement if any of the following events or conditions, occur:
(a) If there is a default on the part of the Debtor in the payment or performance of any of the obligations or of any covenants or liabilities contained in this Agreement or under the Promissory Note;
(b) If any warranty, representation or covenants made or furnished by the debtor to Secured Party is false in any material respect;
(c) If the Collateral is made subject to loss, theft, substantial damage, destruction, sale or encumbrance without obtaining prior written approval of the Secured Party;
(d) If the Debtor files an action or if any third party files an action against Debtor for dissolution or termination of existence, under any bankruptcy laws, or if the Debtor is declared to be insolvent or if a receiver is being appointed for whole of the property or for any part of the property of the Debtor or if the Debtor makes an assignment for the benefit of creditors; or
6. REMEDIES
(a) Upon occurrence of any event of default, the Secured Party may, without notice, declare all payments under the Promissory Note secured hereby immediately due and payable. In addition to all other rights provided by law, the Secured Party shall have all of the rights and remedies of a secured creditor and may, at its election, without notice or demand, do any of the following acts:
(i) Declare that the principal amount and the interest under the Promissory Note is immediately due and payable in full.
(ii) Enter the premises with or without any judicial process where the Collateral is located and take possession of the Collateral or any part thereof and the Debtor or its agents shall not resist or interfere with the Secured Party's exercise of such right.
(iii) Upon possession of the Collateral, store, maintain, repair, prepare for sale, advertise for sale, or sell the Collateral, for cash or on credit and in such manner and at such places as it deems commercially reasonable.
(iv) Secured Party may do such acts or take such action as it deems necessary to collect all amounts payable by the Debtor.
(b) Secured Party's rights and remedies under this Agreement shall be cumulative. Secured Party shall have all other rights and remedies as provided by law or in equity. No exercise by Secured Party of one right or remedy shall be deemed an election and no waiver by Secured Party of any default on Debtor's part shall be deemed a continuing waiver. No delay by Secured Party shall constitute a waiver, election or acquiescence by it.
7. SALE IN ORDINARY COURSE OF BUSINESS
The Debtor shall not have any right to sell or dispose of the Collateral or any part thereof except for a sale made in the ordinary course of business and upon the condition that on or before delivery of the Collateral to a third party, the Debtor shall make full and final settlement of the entire principal amount due under the Promissory Note. Until the Debtor makes full settlement of all amounts due to the Secured Party, the Debtor shall hold all cash, chattel paper or other property received in trust for the Secured Party and the Secured Party shall have a security interest on them.
8. NOTICES
All notices, demands, and requests which may be given or which are required to be given by either party to the other, hereunder shall be in writing. Such notices shall be deemed delivered when personally delivered to the address of the party to receive such notice set forth below or, whether actually received or not, five (5) days after having been deposited in any post office or certified or registered mail, return receipt requested, postage prepaid, properly addressed as follows:
If to Secured Party:
__________________________
__________________________
__________________________
If to Debtor:
___________________________
___________________________
___________________________
9. NO WAIVER
No waiver by Secured Party of any default shall operate as a waiver of any other default or of the same default on a future occasion.
10. SUCCESSORS & ASSIGNS
All rights of Secured Party hereunder shall inure to the benefit of its successors and assigns; and all obligations of Debtor shall bind its successors or assigns.
11. NO RELEASE OR DISCHARGE OF OBLIGATIONS
Debtor's Obligations under this Agreement are absolute and unconditional and shall not be released, discharged or otherwise affected by any action or inaction of the Secured Party in enforcing its rights hereunder, by any bankruptcy, insolvency or similar proceeding, or by any other matter which might vary the Debtor's risk, or operate to discharge the Debtor.
12. ASSIGNMENT
The Secured Party may at any time assign this Agreement to any third party. The Debtor expressly agrees that with respect to such an assignment, or transfer of this agreement the assignee shall have all of the Secured Party's rights and remedies under this Agreement and the Debtor will remain obligated to pay to the assignee or transferee at its place of business as said obligations, indebtedness and liabilities become due.
13. BINDING EFFECT
This Agreement shall be binding upon and inure to the benefit of the respective successors and assigns of the parties hereto.
14. ENTIRE AGREEMENT
This Agreement constitutes the final, complete and exclusive statement of the terms of the Agreement. There are no oral or other written representations or agreements between the parties concerning the subject matter of this Agreement.
15. AMENDMENT
This Agreement may not be modified, supplemented or amended, or any of its provisions waived, except by a writing signed by the Debtor and the Secured Party. Any oral representations or modifications concerning this Agreement shall be of no force and effect.
16. SURVIVAL
All covenants, representations and warranties of the Debtor made in this Agreement or in any other written agreement, statement or certificate delivered by the Debtor to the Secured Party at any time in connection herewith shall survive the execution and delivery of this Agreement.
17. SEVERABILITY
If any provision of this agreement is prohibited by or is invalid or unenforceable under applicable law, such provision shall be ineffective to the extent of such prohibition without invalidating the remaining provisions hereof.
18. BINDING ARBITRATION
Any dispute, controversy or claim arising out of or relating to this Agreement or the validity, construction or performance of this Agreement or the breach thereof, shall be resolved by arbitration according to the rules and procedures of Arbitration & Conciliation Act 1996. Such rules and procedures are incorporated herein and made a part of this Agreement by reference. The parties agree that they will abide by and perform any award rendered in any such arbitration and that any court having jurisdiction may issue a judgment based upon the award. Moreover, the prevailing party shall be entitled to reimbursement of reasonable lawyer fees and costs.
19. GOVERNING LAW
This Agreement and the rights of the parties hereunder, shall be interpreted in accordance with, and governed by, the laws of India without giving effect to any conflict of law provision.
20. HEADINGS
All headings used in this agreement have been inserted for convenience of reference only and are not intended to assist in the interpretation of any of the provisions of this agreement unless expressly referred to in the provisions of this agreement.
21. COUNTERPARTS
This Agreement may be executed in multiple counterparts, each of which shall be deemed an original Agreement, and all of which shall constitute one Agreement to be effective as of the date of execution of this Agreement.
IN WITNESS WHEREOF, the parties hereto, or their duly authorised representatives, have caused this Agreement to be dated, executed and delivered as of the day and year first above written.
Secured Party: Debtor:
By:___________________________ By:____________________________
Its: Its:
EXHIBIT A
Collateral
Looking for something else?