Simple Will for use in India.
File types included
Microsoft Word
Adobe PDF
WordPerfect
Rich Text Format
Compatible with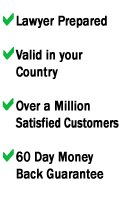 For Immediate Download
Rs.300 INR
Add to Cart
60-Day Money Back Guarantee
Please select a state
Lawyer prepared
Our forms are kept up-to-date and accurate by our lawyers
Unlike other sites, every document on FindLegalForms.com is prepared by a lawyer, so you can be sure that you are getting a form that is accurate and valid in India.
Verified in India
Our forms are guaranteed
to be valid in India
Our team works tirelessly to keep our products current. As the laws change in India, so do our forms.
Over 3,500,000
satisfied customers
In over 10 years of creating and selling legal forms, our focus has never changed: providing our customers high quality legal products, low prices and an experience that takes some confusion out of the law.
60-Days Money Back
Try our forms with no risk
If you are unhappy with your form purchase for any reason at all, contact us within 60 days and we will refund 100% of your money back.
This kit includes tools and guidelines to assist you in drafting a Simple Will.
A Will is a document which ensures that your wishes regarding your assets and property are followed after your death. It is an instrument whereby a person making the Will disposes of his/her property, but such disposal comes into effect only after his/her death.
Often, problems and complications arise when a person dies without a Will and their property is distributed according to law or, worse yet, fought over by loved ones. Yet we put off making a Will, not realising the predicament our family may face after our death.
This type of agreement is important because it not only defines the rights and obligations of both parties to the contract, but it was also help the parties avoid and potential confusion which could result in length delays, additional expense and litigation.
Among others, this form includes the following key provisions:
Appointment of Executors
Family Members
List of immovable and movable assets
Assets devised to wife and others
This attorney-prepared Simple Will packet contains:
Description and Instructions for Simple Will
Simple Will for use in India
Law Compliance:
This form is designed for use in India.
Dimensions
Designed for Letter Size (8.5" x 11")
Editable
Yes (.doc, .wpd and .rtf)
Usage
Unlimited number of prints
This is the content of the form and is provided for your convenience. It is not necessarily what the actual form looks like and does not include the information, instructions and other materials that come with the form you would purchase. An actual sample can also be viewed by clicking on the "Sample Form" near the top left of this page.
Simple Will
(India)
This Packet Includes:
1. General Description
2. Instructions
3. Simple Will
General Description
Simple Will
(India)
A Will is a document which ensures that your wishes regarding your assets and property are followed after your death. It is an instrument whereby a person making the Will disposes of his/her property, but such disposal comes into effect only after his/her death.
Often problems and complications arise when a person dies without a Will and their property is distributed according to law or, worse yet, fought over by loved ones. Yet we put off making a Will not realising the predicament our family may face after our death.
Important Definitions:
• Codicil is an instrument made in relation to a Will, explaining, altering or adding to its dispositions and is deemed to be a part of the Will.
• Executor is the legal representative for all purposes of a deceased person (testator) and all the property of a testator vests in him.
• Legatee/Beneficiary is a person who inherits the property under a Will.
• Probate is a copy of the Will, certified under the seal of a competent Court.
Testator is a person making a Will and executing it.
Essential Characteristics:
1) A Will must be in conformity with the law and must be executed by a person legally competent to make it.
2) It should relate to disposition of the property of the person making the Will.3) Every Will is revocable during the lifetime of the testator. People capable of making Wills must have the following characteristics:
a) Not a minor
b) Be of sound mind
c) Be free from fraud, coercion or undue influence
General Instructions
Simple Will
(India)
A Will needs to be properly signed and attested. The Will must be initialed by the testator at the end of every page and next to any correction and alteration.
A Will can be written in any language without any technical words. However, it should be clearly worded so that the intention of the testator is reflected in his Will.
No stamp duty is required to be paid for executing a Will or a codicil. A Will, therefore, need not be made on stamp paper.
A Will must be attested by two witnesses who must witness the testator executing the Will. The witnesses should sign in the presence of each other and in the presence of the testator.
Under Parsi and Christian law, a witness cannot be an executor or legatee. However, according to Hindu Law, a witness can be a legatee. A Muslim is not required to have his Will attested if it is in writing.
A Will is to be registered with the registrar/sub-registrar with a nominal registration fee. The testator must be personally present at the registrar's office along with witnesses. In India, the registration of Wills is not compulsory even if it relates to immoveable property. Registration, therefore, does not give any special sanctity to the Will though registration of the Will by the testator himself evidences the genuineness of the Will.
Whether registered or not a Will must be proved as duly and validly executed as required by the Indian Succession Act. Once a Will is registered, it is placed in the safe custody of the Registrar and therefore cannot be tampered with, destroyed, mutilated or stolen.
DISCLAIMER:
FindLegalForms, Inc. ("FLF") is not a law firm and does not provide legal advice. The use of these materials is not a substitute for legal advice. Only a lawyer/advocate/solicitor/barrister can provide legal advice. A lawyer/solicitor/barrister should be consulted for all serious legal matters. No Lawyer-Client / Solicitor-Client /Advocate-Client relationship is created by use of these materials.
THESE MATERIALS ARE PROVIDED "AS-IS." FLF DOES NOT GIVE ANY EXPRESS OR IMPLIED WARRANTIES OF MERCHANTABILITY, SUITABILITY OR COMPLETENESS FOR ANY OF THE MATERIALS FOR YOUR PARTICULAR NEEDS. THE MATERIALS ARE USED AT YOUR OWN RISK. IN NO EVENT WILL: I) FLF, ITS AGENTS, PARTNERS, OR AFFILIATES; OR II) THE PROVIDERS, AUTHORS OR PUBLISHERS OF ITS MATERIALS, BE RESPONSIBLE OR LIABLE FOR ANY DIRECT, INDIRECT, INCIDENTAL, SPECIAL, EXEMPLARY, OR CONSEQUENTIAL DAMAGES (INCLUDING, BUT NOT LIMITED TO, PROCUREMENT OF SUBSTITUTE GOODS OR SERVICES; LOSS OF USE, DATE OR PROFITS; OR BUSINESS INTERRUPTION) HOWEVER USED AND ON ANY THEORY OF LIABILITY, WHETHER IN CONTRACT, STRICT LIABILITY, OR TORT (INCLUDING NEGLIGENCE OR OTHERWISE) ARISING IN ANY WAY OUT OF THE USE OF THESE MATERIALS.
The use of these materials is subject to the "Terms and Conditions" found at
findlegalforms.com
.
W I L L
I, ______________Hindu / Muslim / Parsi / Christian / Jew, son of Shri _______________, aged __ years, resident of ______________________________, do hereby revoke all my former Wills, Codicils and Testamentary dispositions made by me. I declare this to be my last Will and Testament.
I maintain good health, and possess a sound mind. This Will is made by me of my own independent decision and free mind and volition and in sound health. I have not been coerced or influenced by any person whatsoever in the execution of this Will.
1) I hereby appoint the following persons as Executors and Trustees of this my Will:
(i) ____________________
(ii) ____________________
(iii) ____________________
(iv) ____________________
It shall be open to them to appoint one or more executors and trustees in their sole discretion.
[OR I hereby appoint my ________________, as the sole Executor of this Will.]
2) My family consists of:
a) Name:
Relationship:
b) Name:
Relationship:
c) Name:
Relationship:
d) Name:
Relationship
[OR The name of my wife is _________________. We have ____ children namely, (1) __________________ (2) ________________ [Add if more]]
3. I own following immovable assets.
i) One Flat No.___ in _______________________.
ii) _______________________________________
iii) _______________________________________
[Add more if more properties are owned]
4. I am seized and possessed of various movable assets, a brief list whereof is given below:
i)_______________
ii)______________
iii)____________
iv) Household utensils, furniture, antiques etc.
v) Jewellery, ornaments, valued at Rs____________.
vi) Cash in savings A/C no._____________ with _________ Bank, ___________ branch
vii) A sum of Rs__________ in PPF A/C no.__________ with __________ bank etc.
viii) National Saving Certificate valued at Rs. ________________as of ______[Mention date]
The present aggregate value of my movable assets is approximately Rs.____________
5. All the assets owned by me are self-acquired properties. No one else has any right, title, interest, claim or demand whatsoever on these assets or properties. I have full right, absolute power and complete authority on these assets, or in any other property which may be substituted in their place or places which may be Acquired or received by me hereafter.
6. I hereby give, devise and bequeath all my properties, whether movable or immovable, whatsoever and wheresoever to my wife, _____________________, absolutely forever.
[Alternatively separate divisions may be made depending on who you are bequeathing your property to: ]
7. [OPTIONAL] I hereby give, devise and bequeath all the balance of my property, both movable and immovable, which I may be possessed absolutely to my wife Mrs._________________. In case she predeceases me, all such balance of my property, I hereby give, device and Bequeath to my daughter Ms. _________________.
IN WITNESS WHEREOF I have hereunto set my hands on this ____ day of ____, 20__ at ____________.
-sd-
TESTATRIX
SIGNED by the above named Testatrix as his last WILL and Testament in our presence, who appear to have perfectly understood & approved the contents in the presence of both of us presents, at the same time who in his presence and in the presence of each other have hereunto subscribed our names as Witnesses.
WITNESSES:
1. ____________________
2. ____________________
Customer Reviews
Average Rating:
Reviews: 7
---





Excellent; simple access and payment mechanism; very quick response.
---




---



---



Yes, I found it useful to me to get an idea as to how to draft a Will and the other thing is it can be modified to suit individual requirements.Thank you and keep up the good work. Krishna
---





Prior to purchasing "Simple Will" I did purchase another will form. I found this to be too open ended and lacking in instructions. FINDLEGALFORMS fulfilled my requirements. You receive a number of different document formats to chose from. I used Word. This was able to be edited and changed to suit personal requirements, without any problems. The generic form included relevant criteria to be covered which I would not have thought of without seeking legal advice. All contingencies were covered. The instructions and checklist were clearly listed without any ambiguities. I now have a sense of security that my estate will be acted upon in accordance with my wishes.
---
View More