Indemnity Agreement
Legal Forms
Indemnity Agreements for use when protecting yourself against future claims by another party. This agreement sets out the specific incident under which the agreement arises.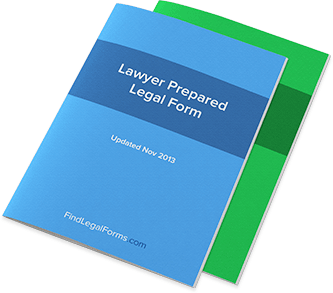 Read more
Indemnity Agreements FAQ
What is an Indemnity Agreement?
An Indemnity Agreement is a contract between two parties in which one party agrees to protect the other party against anticipated losses, lawsuits, and claims. A popular example of an Indemnity Agreement is an agreement for medical insurance, in which the insurer does agree to be financially responsible for some degree of losses and claims. However, an Indemnity Agreement is not limited to this arrangement.
Typically in describing Indemnity Agreements, it is convenient to identify the parties as "Party A" and "Party B." However, the agreement itself will typically label these parties "Indemnifier" and "Indemnitee." Understandably, these two terms can be confusing for those new to Indemnity Agreements, so for the purposes of this FAQ, we will be referring to the parties as "A" and "B."
What exactly is "indemnification"?
The process of indemnification, which is also a term for the main provision of an Indemnity Agreement, is the process that identifies which action that Party A is going to protect Party B from. In essence, indemnification refers to the transfer of future risk from one party to another, though it's not necessary that all of this future risk be transferred; typically, an Indemnity Agreement can specify exactly what kinds of risk are indemnified. This is true especially in insurance agreements.
What kind of provisions make up an Indemnity Agreement?
In order to better understand the whole of the Indemnity Agreement, it's worth taking a look at the individual sections that make up the whole:
Indemnification: As outlined in the previous answer, indemnification is the process in which one party agrees to take on the risk of future losses and claims of the other party. This is the core of the Indemnity Agreement and will be the language that both parties want to pay close attention to before signing the agreement.
Procedures for Indemnification: This provision is similar to the one above in that it identifies what will happen under certain circumstances; however, this provision is (unsurprisingly) a description of what procedures will take place in order to satisfy the Indemnity Agreement.
Severability: An Indemnity Agreement is often ironclad legally, but if any of the agreement is shown to be unenforceable, then it is possible that the entire arrangement may be severed. This section addresses that possibility.
Binding Effect: This outlines the terms of the agreement that both parties will be bound to as long as the agreement is effective.
These four major provisions should all be inspected and read closely before anything is signed. It may be interesting to examine a few of your insurance agreements to gain examples of what an Indemnity Agreement in action looks like. However, this does not necessarily mean that your insurance contract will represent the totality of your experience with Indemnity Agreements in the future.
What exactly are "Indemnification Procedures"?
In the previous answer, we briefly mentioned this provision of the Indemnification Agreement. Although it sounds very complicated, Indemnification Procedures simply refer to the different actions that must be taken when Indemnification is going to take place. For example, Party B will be required to notify Party A of a claim against them according to these procedures. This is typically referred to as "Notice," which is one subsection of the Indemnification Procedures provision. In addition, Party A (the party providing the indemnification) will often have the option of managing the defense of the claim. The reason for this is that the indemnifying party will have more at stake in the outcome.
Why would someone agree to Indemnity?
An Indemnity Agreement might seem like a bad deal to Party A, which will be doing the protection of Party B. However, these arrangements are quite common and, like all legal contracts, require that something is exchanged between both parties in order for it to be valid. For example, Party B may be purchasing a licensing agreement from Party A; however, if a third party then claimed that their rights were being infringed a claim may be made against Party B. In order to be willing to pay the licensing fee, Party B may require an "indemnification" from Party A, thus limiting its risk. The same reason the contract will be considered valid through these considerations is why two parties often find Indemnity Agreements to be mutually beneficial. Like all contracts, however, this is not always the case.
How do I know when an Indemnification Agreement is good to sign?
Deciding whether or not to sign an Indemnification Agreement, from either party's perspective, is all about defining the terms of the agreement. If you believe the terms are unfair, then you're going to likewise believe that the contract itself is unfair. Once both parties have come to an agreement on the terms of the agreement, then the decision of whether or not to sign the contract will rest on each Party's approval of the other provisions the contract contains.
When is an Indemnity Agreement valid?
Much of the validity of an Indemnity Agreement hinges on the issue of legal "consideration" – or payment and benefit. Both sides must receive something out of the agreement; otherwise the contract could be construed as one party forcing an agreement on the other side. In an insurance purchase, for example, this type of consideration is not a major issue; after all, Party B is agreeing to pay Party A a regular fee in exchange for indemnification.
When is an Indemnity Agreement enforceable?
The Indemnity Agreement itself has a lot to say on this issue, particularly as the provisions it contains can sometimes render the agreement itself invalid. It is important that both parties live up to each of their responsibilities in an Indemnity Agreement; for example, Party B will want to make sure that they follow all Indemnification procedures as outlined in the Procedures provision. Otherwise, Party A may have legal recourse to get "out" of the indemnification.
When is an Indemnity Agreement effective?
Indemnity will require a strict adherence to the entire contract in order for the process to take place; otherwise, Party A may be able to avoid losses.
# 667
Lawyer prepared
Our forms are kept up-to-date and accurate by our lawyers
Unlike other sites, every document on FindLegalForms.com is prepared by a lawyer, so you can be sure that you are getting a form that is accurate and valid in India.
Verified in India
Our forms are guaranteed
to be valid in India
Our team works tirelessly to keep our products current. As the laws change in India, so do our forms.
Instant download
Download your form in
a format you can use
After you place your order, your forms will be available for immediate download. You can save the file for later use or print it immediately. We make all formats available to you at no extra charge.
Over 3,500,000 satisfied customers
In over 10 years of creating and selling legal forms, our focus has never changed: providing our customers high quality legal products, low prices and an experience that takes some confusion out of the law.
60-Days Money Back
Try our forms with no risk
If you are unhappy with your form purchase for any reason at all, contact us within 60 days and we will refund 100% of your money back.